Audio - Visual
AV Cart $15.00
Audio/Video Cart, 42"H x 24"W x 18"D, Black
---
Black Light $5.00
---
Carpeted Podium $30.00

Folds easily to less than 5" thick
Only 44 lbs.
Carpet-covered

---
Color Strip Mini- 19" $20.00
Light source: 192 (64 red, 64 green, 64 blue) LEDs
Size: 19in x 3.8in x 5.1in
---
Crystal LED Dance Light $20.00
This magic ball can absolutely shock your eyeball with colorful lighting. It contains 2 red LED, 1 yellow LED, 1 green LED, 1 white LED and 1 blue LED.
Mini size, easy to use. Auto operation or sound activated.
---
DJ Effect Light $30.00
The DJ effect is a 4-channel DMX-512 LED effect light, with blackout, static, and strobe effect, Individual control of red, green and blue LED as well.
Built-in sound active programs via master/slave
2 sound sensitivity knobs: 1 for LED , 1 for motor
Light Source: 224 (88 red, 48 green, 88 blue) LED
Size: 16in x 11in x 11in
Weight 6lb
---
Nickel or Brass Easel $10.00
---
Fog Machine $20.00
Fog Output of 4,000 CFM and a quick heat up time of 1.5 minutes
Light and compact fog machine creates a smoky atmosphere
Comes with a generous capacity tank that is full when received.
Uses water-based fog.
---
Speaker Bluetooth $40.00

Built-in rechargeable batter-2 way powered audio
15" Subwoofer-5.0" Tweeter 1000 Watt MAX Power
1/4" Mic/Guitar Input-RCA (L/R) Input Connectors-USB-SD Reader
---
Laser Pointer $5.00
---
Laser Slide Advancer $10.00
---
LCD Projector $75.00
With the XJ-S32, you can project in the brightest of rooms – its 2300 ANSI lumens sets the standard in projector excellence. Image quality is outstanding – project any distance between 5.25 and 10.5 feet with the 2X wide angle zoom lens.
DLP™ Display Technology
2300 ANSI Lumens
4 lbs
---
Lecternette Only $35.00
Additional Speaker With Podium $50.00
Lecternette features one lectern microphone input two auxiliary microphone inputs.
---
LED Beehive $30.00
6 ultra bright 3W LEDs (2 red, 2 green, 2 blue). The result is 216 sharp colorful beams moving around a room or dance floor. Dual operation mode switch: Auto (slow constant beam movement) or Sound (clockwise/counterclockwise beam movement to the beat of music)
---
LED Slimpar Uplights $12.00
Powered by 108 red, green and blue LEDs. It also provides built-in automated and sound activated programs and a variable speed pulse effect.
---
Mirror Ball w/Spot Lights $25.00
High Quality 16 inch Glass Mirror Ball
Mirror Ball -w/ battery operated Motor & 2 spot lights
---
Mini Laser $30.00
Mini Laser is an ultra-compact, plug-and-play laser.
Extremely compact laser effects that project thousands of red and green beams
Cover a huge area and looks great with or without fog
Sound-activated and automated programs
Size: 4.3 x 3.3 x 1.8 in
---
Paper Shredder $40.00
Maximum capacity is increased to 30 sheets per pass (20 lbs. bond paper) or 36 sheets per pass (16 lbs. bond paper).
Equipped with a grounded plug (3 prong) that can be plugged into any regular U.S. domestic 115 volt AC outlet. Electrical outlet should have at least a 15 amp circuit breaker (20 amp preferred).
---
Polished Chrome Stanchion $5.00
These Polished finish (looks like stainless steel) stanchions look great almost anywhere. The belt comes in black and is 8ft long.
39" Tall
Weight 19.4LB
---
Projector Screen 60x60 $15.00
---
---
Scorpion Storm $40.00
Offers color selection of red, green or red and green with strobe control. Dual effect motors allow control of rotation and shutter effect.
Weight: 5.9lbs
Size: 10.8in x 9in x 9.2in
Color selection of red, green or both red & green with strobe control
Built-in sound activated
Creates a unique star field effect with many patterns and hundreds of beams
---
Spot Lights w/Color Gels $7.00
Weight: 2.5lb.
Size: 9" x 6.5" x 6.5"
---
Audio sound activation
Weight 6lb.
---

Tripod $15.00
This black tripod stand is ideal for hanging several types of lights. It extends up to 9ft and collapses for easy transport. This light stand comes with a T-bar with 8 hanging point bolts.
---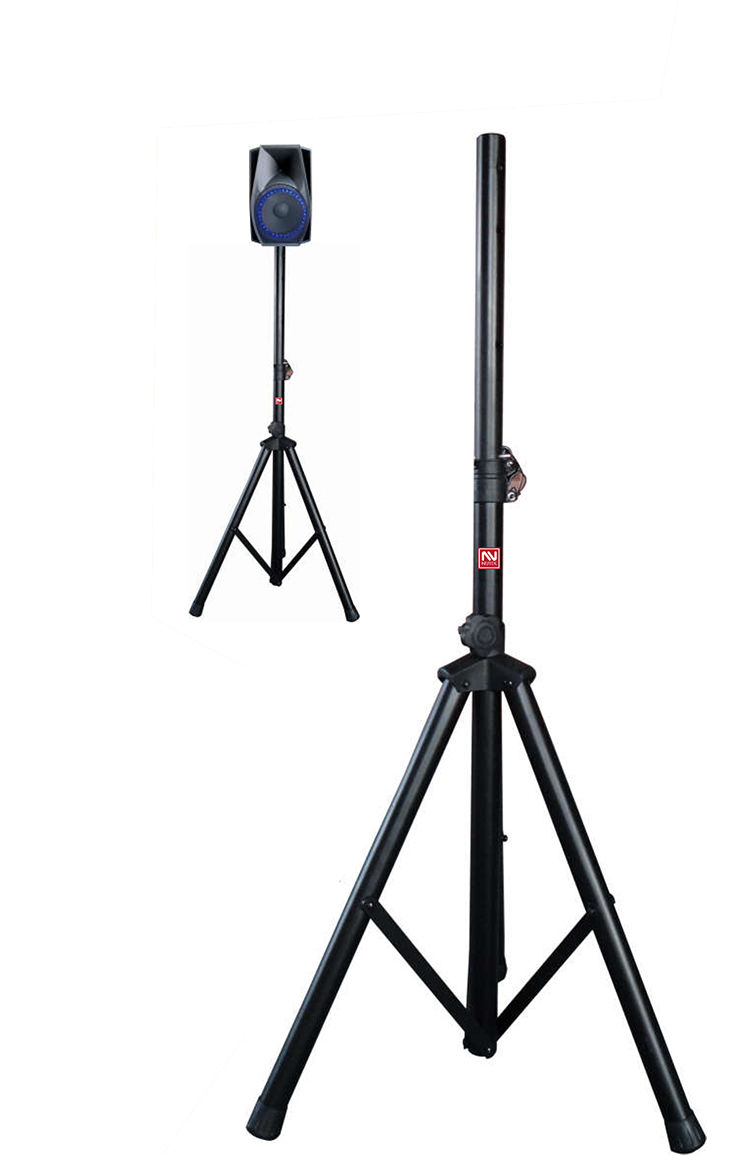 Speaker Tripod $15.00